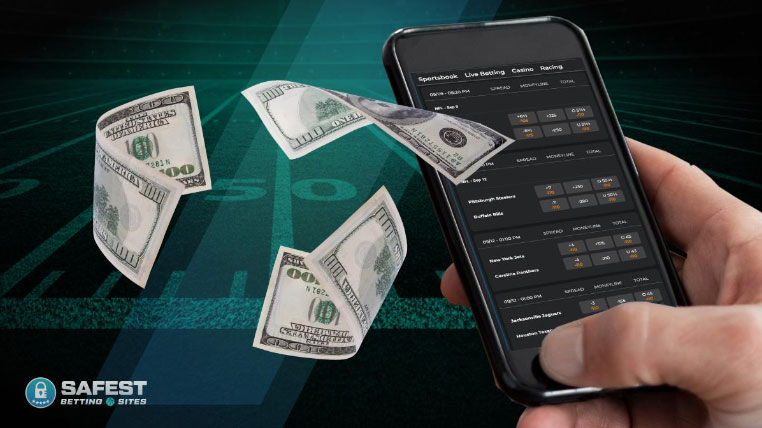 The great thing about the sports betting industry is the number of ways you can place bets or the many different types of events you can bet on. One way to accomplish this is by placing proposition bets or "prop bets."
What are prop bets?
Prop bets are wagers or bets placed on anything other than the typical point spreads, totals, or money line bets. Prop betting is becoming more and more popular by the day, and the variety of props bets are darn near endless. In an NFL game, player props are the most popular prop bets that sportsbooks offer.
Looking at last year's NFL Super Bowl, we can look at a few examples of player props offered at BetUS.
| | |
| --- | --- |
| Patrick Mahomes Passing Yards | Odds |
| OVER 331.5 Yards | -115 |
| UNDER 331.5 Yards | -115 |
| | |
| --- | --- |
| Tom Brady Passing Yards | Odds |
| OVER 300.5 Yards | -125 |
| UNDER 300.5 Yards | -105 |
Patrick Mahomes threw for 270 yards well under his prop of 331.5 yards. Tom Brady also hit the under of 300.5 yards as he threw for 201 yards in last year's Super Bowl.
Prop Betting Options
There are an endless amount of prop bets out there. Most sportsbooks offer prop bets on most sporting events and even some of the largest events in the world like the Presidential Elections, award shows, or the likes of TV shows.
Sports Props
As I mentioned earlier, the most popular prop bets will come in sports games via player props. But, there will also be other options in sporting events like a simple "yes" or "no" scenario.
Common Yes/No Prop Bets
Will there be overtime?
Will the game end in a tie?
Will either team have a defensive touchdown?
Super Bowl Props
The Super Bowl is one of the biggest bet-on events of the year, and most of the money is coming on prop bets that don't even pertain to the actual game. You can place bets on the color of the winning team's Gatorade bath, the length of the National Anthem, and even the coin toss.
2021 Super Bowl Prop Bets
Coin Toss: Heads or Tails
National Anthem: Over/Under 2 minutes in length
Color of Gatorade Bath: Blue, Red, Yellow, Other
Will the player's jersey number to score first be over or under 17.5?
Will the score ever be tied after it's 0-0?
Which team will score last?
Entertainment Props
Believe it or not, there are some online sportsbooks that over prop bets on TV shows like The Voice, The Bachelor, or American Idol. If you are a fan of any of these shows, you can bet on who will win it all or be the first to be eliminated or other things of that nature.
Other events like The Grammys, Oscars, Emmys, and Golden Globes have picked up popularity in the betting world.
Political Props
As stated earlier, you can even find prop bets during the Presidential Election. Looking back at the 2020 election, more props were offered than just the standard Trump vs. Biden. According to Betfair, more than $564 million were bet on the 2020 election. Below are some props that were offered.
| | |
| --- | --- |
| Which Party Will Win The Popular Vote In The 2020 Presidential Election? | Odds |
| Democrats | -700 |
| Republicans | +500 |
| | |
| --- | --- |
| Number Of Votes For Donald Trump For 2020 U.S. Election | Odds |
| Over 69.5 million Votes | -150 |
| Under 69.5 Million Votes | +110 |
| | |
| --- | --- |
| Voter Percentage For 3rd Parties In 2020 U.S. Election | Odds |
| Over 3% | +225 |
| Under 3% | -350 |
Prop Betting Advice
Like any bet you want to place, you have to research beforehand. You want to make sure you are updated to date with as much information as possible, especially if you are diving into the player prop market.
I don't think there is an exact science or strategy when diving into the prop market. The biggest piece of advice is to make sure you do your research. For example, if you are looking into a wide receivers game prop of receiving yards, you will have to look into a few different aspects of that game.
Is his prop number too high or too low compared to previous games? Will the weather impact the game plan or game script? How does the opposing defense defend receivers? These are all questions you have to ask yourself and come up with your conclusions based on your research.
Also, like any other bet, make sure you shop for the best line. You may not find a big difference between other sportsbooks, but finding 1-2 yard advantage could be the difference in becoming profitable long-term.
Shop here for the most legit and trusted NFL sportsbooks
Final Thoughts
Just like everything else in this industry or even in life, there are pros and cons when it comes to prop betting. Prop betting can provide more entertainment/excitement for many events outside of the sports world and all other sporting events for the more advanced sports bettors. Sports betters can exploit the lines more easily than the typical spread wagers if done correctly.
On the downside, bookies and sportsbooks can limit the amount you spend on prop bets because of the easiness of exploiting the prop betting lines. Also, prop betting comes with luck or unluckiness, and staying in the black may be more complex if betting in higher volumes.
In conclusion, research other experts' strategies, implement your system or strategy, and with extensive research, you should have good luck becoming profitable long-term when placing prop bets.
Author bio
Kurt Blakeway - Sporting Betting Analyst
Kurt is a Sports Betting Analyst for Safest Betting Sites. He enjoys all things MLB, NFL, CFB, and CBB. While he is a fan first, he is always trying to gain an edge on the books to make money.