An oddsmatcher is one of the most useful tools in a matched bettor's toolbox and if you're reading this you may be interested in how to get your hands on a free oddsmatcher (or nearly free). If you're not sure what matched betting is, take a look at our introductory article on Getting Started With Matched Betting to learn the basics of how you can quickly and easily make risk-free and tax-free income with matched betting, then come back to this article to learn all about oddsmatchers.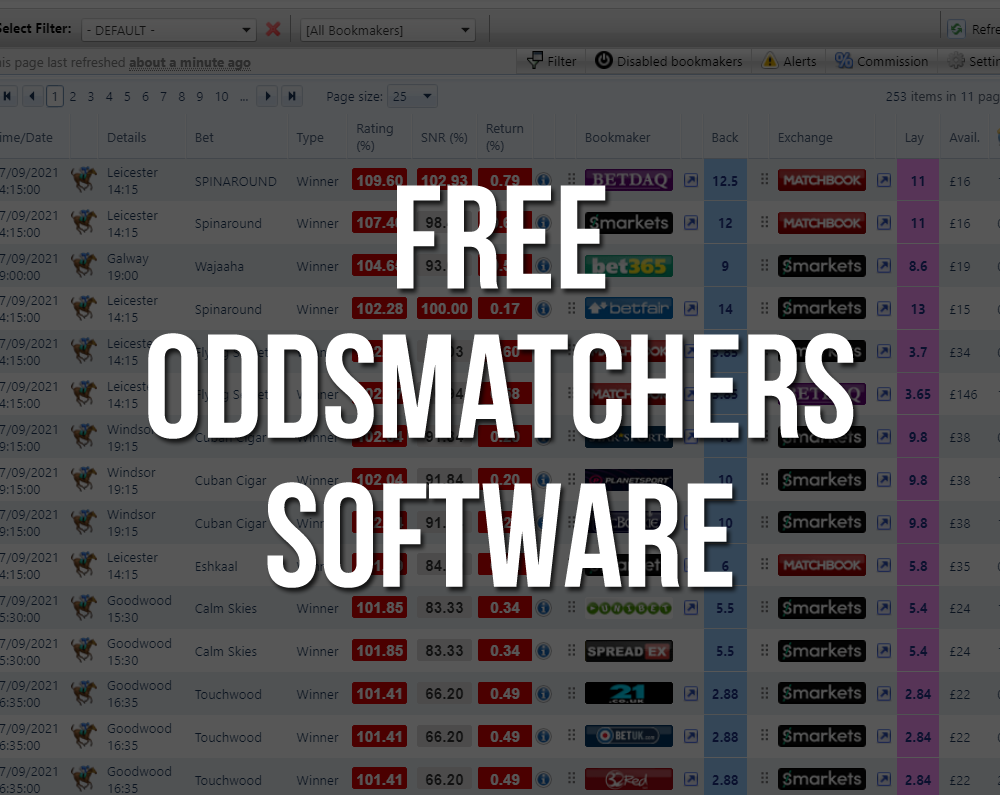 What Is an Oddsmatcher?
An oddsmatcher is a tool designed to take all of the hard work out of the most common matched betting task: finding back and lay bets to place.
When you're matched betting, your profits are only as good as the matches you find. The closer your back odds are to your lay odds, the less you'll lose on your qualifying bets and the more you'll make on your free bets. But with literally thousands of available markets and selections to bet on, finding those perfect matches can take a long time.
That's where the oddsmatcher tool comes in. An oddsmatcher is a piece of software that compares the odds of bets at bookies with the odds of those same bets at exchanges and lists all the best matches for you to choose from.
Why Use an Oddsmatcher?
There are two main reasons to use oddsmatcher software: to save time and to increase profit.
Imagine you have a simple matched betting offer you want to complete. A bookie is offering you a free £10 bet if you place a £10 qualifying bet on any sport. To make the most profit from this offer, you need to minimise your losses on the qualifying loss and maximise your return on the free bet.
Every single day there are thousands of sports events that you could potentially bet on. You could compare the back and lay odds of each and every one of these manually to find the best matches for your bets, but that would take a very long time. Alternatively, you could just decide on a profit/loss you're happy with and take the first matches you find that fit the bill, but then you're likely to be missing out on better matches just to save some time.
Using an oddsmatcher solves this problem. An oddsmatcher can compare thousands of bets in a fraction of a second and give you a list of the best options available for your bets. By using an oddsmatcher, you save yourself a lot of time and guarantee that you're getting the most profit from your bets.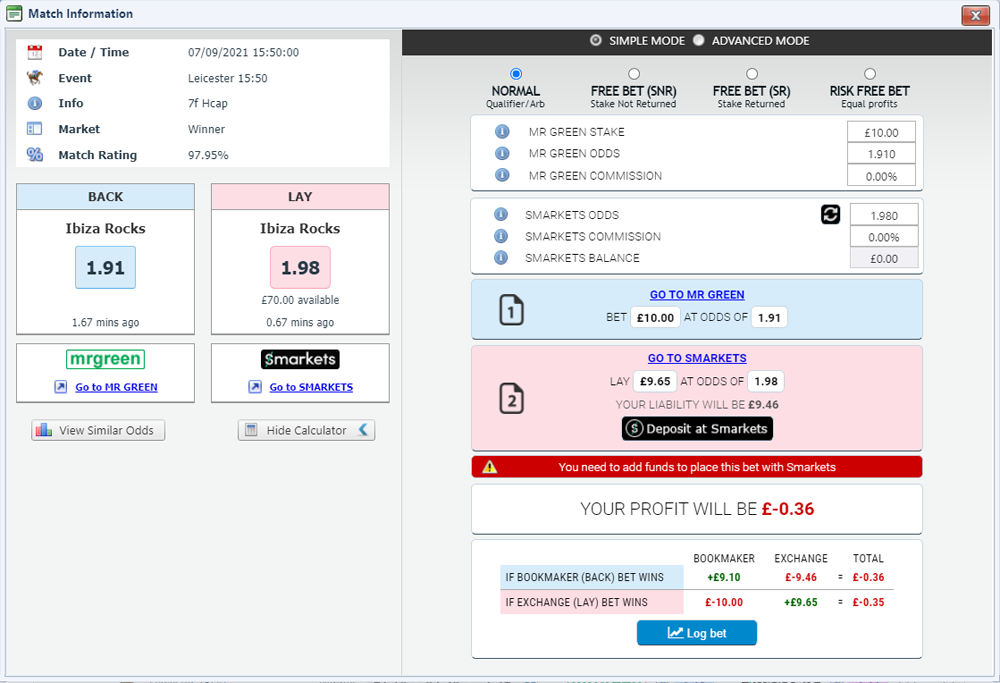 Which Oddsmatcher Should I Use?
We'll cut to the chase. There are quite a few different Oddmatchers available, but at the moment the one we recommend comes from Oddmonkey. Having looked at the pros and cons of all the available options, we believe the Oddsmonkey oddsmatcher is the best on the market at the moment. Here's why.
Monthly Cost & Trial Offer
Matched betting is all about maximising your profits, so the cost of the software you use should always be high on your list of priorities. After all, every pound you spend on software is a pound less profit in your pocket at the end of the month.
Fortunately, Oddsmonkey's oddsmatcher software is very cost-effective at just £19.99 per month or £180 for a full year. If you opt for the annual subscription, you'll end up paying the equivalent of just £15 per month, which we think is fantastic value for access to the market-leading oddsmatcher tool. I'm afraid this is not the free oddsmatcher you may have been looking for however a paid service such as Oddsmonkey really is worth the extra, you'll end up making much more that the outlay in addition to the extra time saved completing offers. 
Better yet, Oddsmonkey are currently offering a 10 day trial of their full premium service for just £1. Whilst it's not a completely free Oddsmatcher, this means you don't have to take our word for how good their oddsmatcher is – you can try it for yourself at hardly any cost.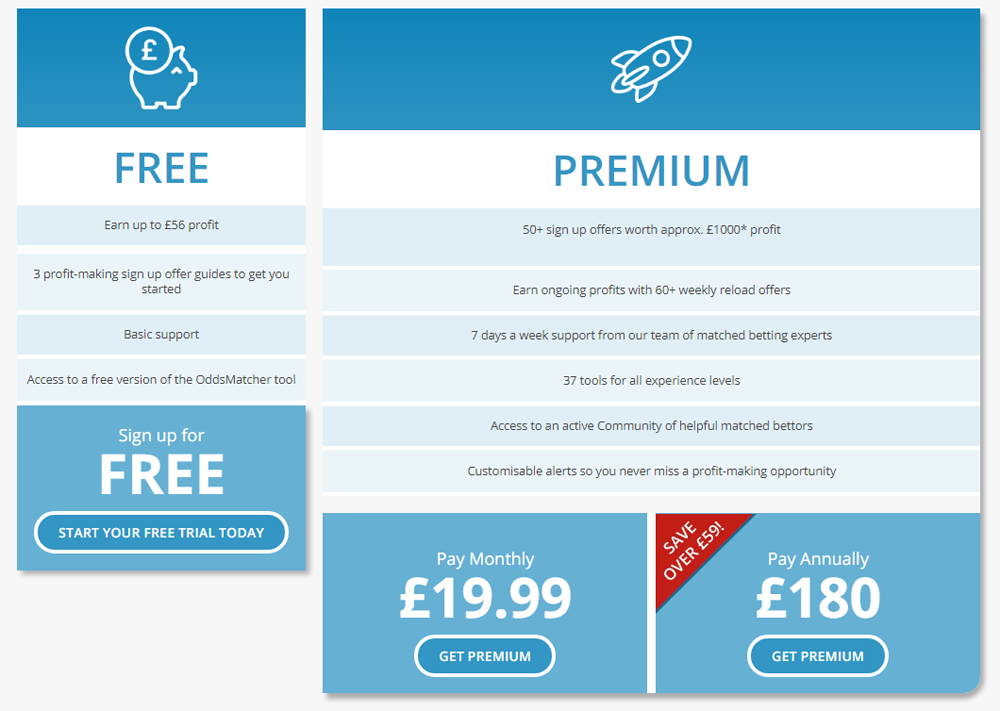 Wide Range of Bookies and Exchanges
Whether you're an absolute beginner or an advanced matched betting pro, a wider range of bookies means a wider range of profit making opportunities. Oddsmonkey's oddsmatcher currently compares odds from over 90 bookies and the four major betting exchanges in the UK.
No other oddsmatcher we looked at can boast such a wide range of supported bookies. This means that whether you're completing sign-up offers or searching for arbs, Oddsmonkey's service has the best chance of pulling odds for the bookies you need, saving you time and increasing your profits.
Fast, Accurate Results
There are times when speed is critically important for a matched bettor. When markets are moving fast, a delay of a few seconds can be the difference between taking a painful qualifying loss and getting on a reload offer for no loss at all.
Even when markets aren't moving too quickly, if an oddsmatcher is too slow to update or inaccurate, it can cost you time while you check multiple matches to find one that's right - time that you could be spending on making more money.
While no oddsmatcher can ever be completely accurate and free from delays - after all, data takes time to transfer and process - Oddsmonkey's matcher is as fast and accurate as any on the market, and considerably faster than a few we've tried.
Advanced Filtering & Sorting
More often than not, you'll have specific requirements for your matched bets. Some offers will have minimum odds, some will have maximum odds. Some offers will require you to bet on a specific sport, a specific event, or even a specific outcome. Whatever your requirements, Oddsmonkey provides an impressive range of tools to sort and tailor your results.
With Oddsmonkey's software, you can sort your search results by a number of different properties. You can order by back or lay odds (either ascending or descending), by the time of the event or the age of the match, or by the quality of the match.
Match quality is ranked in three categories, each useful for different purposes. The basic "Rating (%)" score tells you what percentage of your stake you'd gain or lose by backing and laying at these odds, and is useful for qualifying bets.
The "SNR (%)" value is used for free bets, and tells you what percentage of an SNR (stake not returned) free bet stake you'd convert into profit by backing and laying at the given odds.
Finally, the "Return %" value indicates the profit or loss of the match as a percentage of your total stake - including your lay liability. This can be useful if you're on a limited budget and want to maximise the value you're taking.
For fine tuning your results, Oddsmonkey has a system of highly customisable filters. Using these options, you can specify the exact markets and sports you're looking for and restrict the results to just the bookies and exchanges you're interested in.
With Oddsmonkey's filters, you can narrow down your results to just those that fall within a certain range of odds or quality ratings, or look for matches just within a certain time frame. The options are wide ranging and powerful.
One of the best things about Oddsmonkey's system of search filters is that it's possible to save your filters to reuse later. This means that you can save yourself a lot of time by saving settings for searches you use often.
Integrated Matched Betting Calculator
Oddsmonkey have some of the most powerful and versatile matched betting calculators available and they are integrated directly with their oddsmatcher software. A single click on any result in the oddsmatcher will bring up Oddsmonkey's matched betting calculators in a popup window and automatically fill in the details of your selected match.
From the calculator popup, you can fine-tune your bet before you place your back and lay. You can set your stakes and tweak the odds you're betting at or your exchange commission rate. There are options available for calculating your lay on the basis of the type of back bet you're placing - whether it's a standard qualifier, an SNR free bet, SR free bet or a risk-free bet.
There's also an advanced mode, which affords you even greater control over the parameters of your bet and allows you to use advanced techniques like under- or overlaying your bets.
Exchange Integration & 0% Commission
Another key feature that Oddsmonkey have over many of their competitors is the ability to lay bets directly from their oddsmatcher, without having to leave the page. This feature is currently available for both smarkets and Betfair.
It's hard to overstate how useful this feature can be. Rather than having to make a note of the required lay amount, move to another site, find the appropriate market and selection, enter your lay amount and then finally click 'place bet', with Oddsmonkey you can simply click 'Lay the bet' from their oddsmatcher window and all the work is done for you.
As well as the obvious time saving, Oddmonkey's exchange integration feature also has the benefit of avoiding mistakes. It's likely that most people who've been matched betting for a while will know the pain of making a small mistake when they enter their lay stake, or of rushing to get a bet on just before a race begins and mistakenly laying the wrong horse. Laying your bets directly from the matched betting calculator with a single click eliminates these potential pitfalls completely.
As an added bonus, Oddsmonkey are currently running a promotion in association with smarkets that offers 0% commission to anyone who uses their exchange integration feature. This means that for as long as the promotion runs and as long as you carry on using Oddsmonkey's exchange integration, you won't pay any commission at all on your smarkets bets, potentially saving yourself hundreds or thousands of pounds.
Bet Tracking Features
The last feature of Oddsmonkey's oddsmatcher that we want to highlight is their bet tracking system. The more matched betting you do, the harder it can become to keep track of all of your bets. Oddsmonkey makes this a little easier by providing a system for recording the bets you place and integrating it into their oddsmatcher.
Like with the exchange integration, bet tracking is done with a single click. Rather than have to copy the relevant details of your bet into a separate spreadsheet or document, you can simply click "Log bet" in the calculator popup and Oddsmonkey's software will record your bet for you. This can potentially save you a huge amount of time - time that can be better spent finding more profit making opportunities!
Alternative Oddsmatchers
For the reasons we've laid out above, we think that Oddsmonkey's oddsmatcher is the best on the market at the moment, so we feel that should be your first point of call. However, if you've tried their 10 days for £1 trial and it's just not for you, we think that the next best option is the oddsmatcher from Profit Accumulator.
Profit Accumulator's oddsmatcher has many of the same features that make Oddsmonkey's offering so good. It's fast and accurate, with support for a wide range of bookies and exchanges.
At the time of writing, Profit Accumulator's oddsmatcher boasted the ability to compare odds for over 80 bookmakers. This is a little lower than Oddsmonkey's impressive 90+, but all the major players are covered, so, in truth, only a minority of matched bettors will miss the few additional options that Oddsmonkey offers.
Profit Accumulator's oddsmatcher has a cleaner, more modern design that many may find they prefer. The layout is generally less cluttered and may be easier for beginners to understand. However, this comes with the downside that there's a little less information available and fewer filtering and calculation options. Advanced users may prefer the wider range of options offered by Oddsmonkey's oddmatcher.
Another feature that Profit Accumulator has in common with Oddsmonkey is betting exchange integration. Once you've connected your exchange accounts to the Profit Accumulator software, you can lay bets directly from the oddsmatcher page, saving time and potentially avoiding costly mistakes.
At the time of writing, Profit Accumulator are also running a 0% commission promotion with smarkets, which means you'll pay no commission on your smarkets bets so long as the promotion runs and you continue to use their exchange integration systems.
In terms of costs, Profit Accumulator's pricing matches Oddsmonkey exactly. Their Premium membership currently costs £19.99 per month, or £180 for a full year. This is great value for access to one of the best oddsmatchers around, so if you've tried Oddsmonkey and didn't like it, this should be the next option on your list to try out.
Other Bonuses
 
If you are looking for something outside of the matched betting arena, then check out these bonuses from Aspire Global Casinos, offering a wide range of sign up offers for new customers.