With a product like FormGenie, predictions are done using a mathematical approach, and they depend solely on statistics. In this FormGenie review, we will closely examine this approach of generating horse racing tips. Is it more precise than other services available in the market? How much value does FormGenie really provide? Is this product worth its price point? 
What is FormGenie?
FormGenie has been in the market since April 2006, which makes it more than 14 years old, and boosts its credibility. It is a horse racing software that was developed by Retrospection Software Ltd. 
Form genie works across multiple devices including, MAC, PC, Tablets, and even your smartphone. For more than 14 years, this software has been forecasting horse racing winners with an outstanding accuracy. 
While some punters choose to follow the selections and predictions made by FormGenie fully, others prefer to use the service as guide while they make their selections. Either way, FormGenie is an invaluable tool for punters.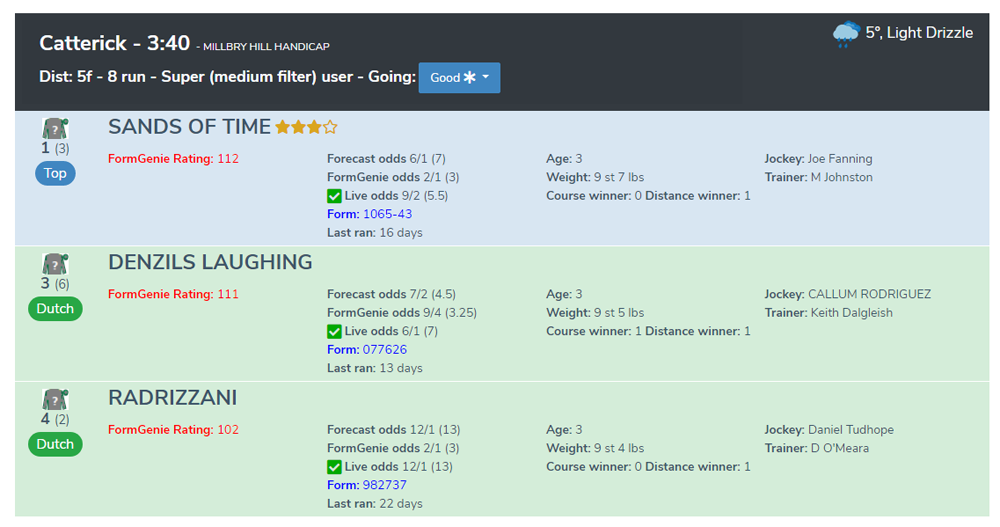 How Does FormGenie Work?
This platform is very easy to use. The software generates speed and form ratings for all UK and Irish horse races. You can then access these ratings from your devices.
Once you've downloaded the Formgenie app, you can begin using it immediately. The app will automatically download and display the predictions every day after the races are analysed. This aspect makes it very user-friendly.
The software groups the day's races are into three categories, which are referred to as user modes. The grouping is based on the strength of the selections. By choosing a user mode, you are able to filter out the selections and focus on races that are worthwhile. These user modes are;
Extreme User Mode  - This mode shows every race analysed, and it includes the weakest selections.
Super User Mode - The Super User Mode includes races available in this category and those in the Power User Mode. It showcases selections that are stronger than those in the Extreme User Mode. The results in this category are used to generate the daily loss and profit report that is displayed on the FormGenie website.
Power User Mode - This mode only displays the strongest selections, and it is used in creating the daily results blog. The selections in this mode are usually between 0 and 6.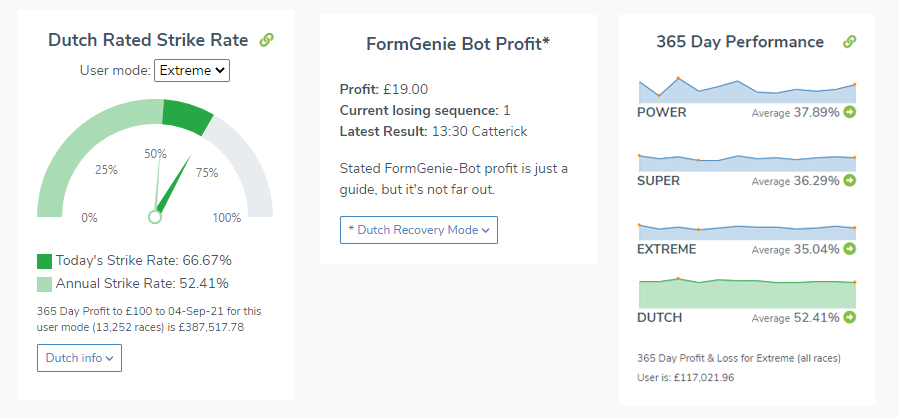 Another remarkable feature of FormGenie is the Live Odds Comparison. This component enables you to quickly identify the bookies with the best prices. The odds comparison feature saves you valuable time and helps you find the best prices with minimum effort. 

For regular members (Weekender, Bronze and Silver subscriptions), it is recommended that you start with a bank of 100 x Stake. This covers you in the event of a losing streak by reducing the mental and financial pressure. For the Dutch-mode, a bank of 150 x stake is optimal. 
Is FormGenie Profitable?
FormGenie can be a profitable platform. A great way to maximize on profits would be focusing on selections in the Super User mode. These selections are low risk and if you place numerous bets, your profits will steadily build up.
FormGenie results have been impressive so far, and its longevity is proof of this consistency. The strike rate for the Top Rated to win or place (at 5/1), for the last 10,000 races, is currently at a remarkable 35%. With these results, both the odds and the races are unfiltered (every single UK race is included). The strike rate when dutching shoots up to a striking 53%.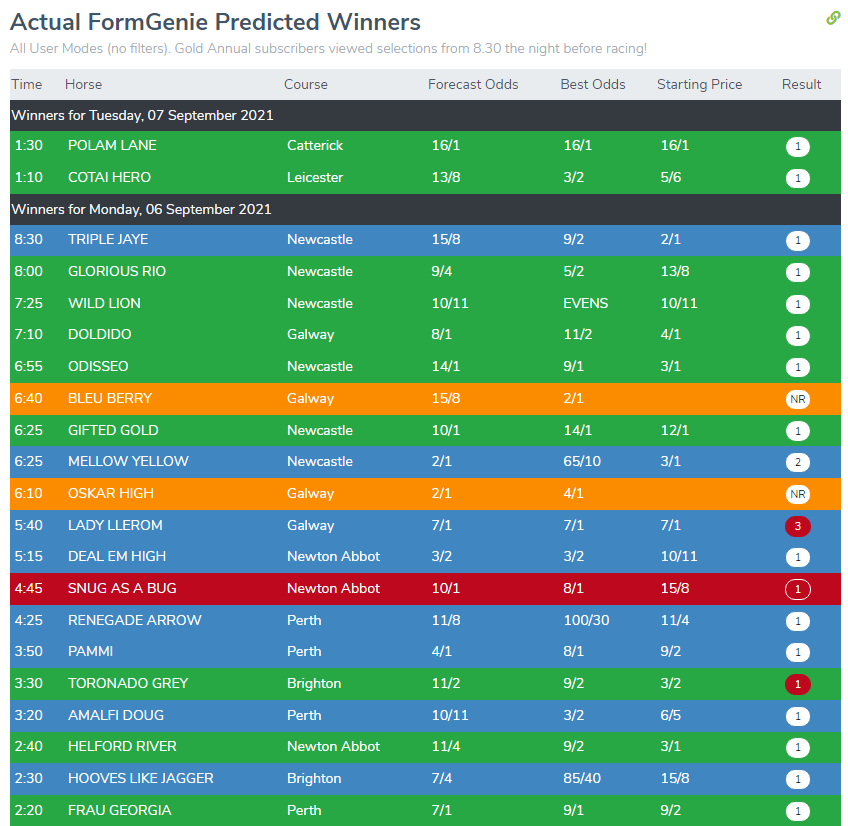 How Much Does FormGenie Cost?
FormGenie offers various subscription options to punters. These options are; Weekender, Bronze, Silver, and Gold inc Bot. 
These classes receive the day's ratings at varying times. At the time of writing this FormGenie review, the Weekender and the Silver members receive the day's selections in the morning at 6:30. The Bronze subscribers receive the ratings later in the morning at 10:30. Subscribers of the Gold inc Bot are granted the earliest access to the selections. For these members, the ratings are released on the day prior to the races at 20:30. This guarantees them the best prices in the market.
The Gold inc Bot subscribers get access to the FormGenie bot. This feature distinguishes them from all other classes of subscription. 
The current FormGenie subscription costs are as follows;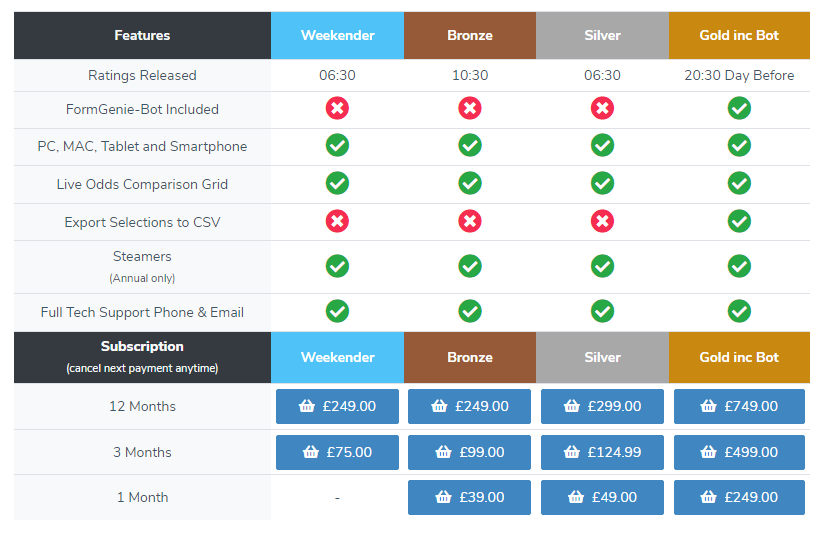 The Weekender subscription option is meant for individuals who are busy on weekdays. They, therefore, receive ratings on weekends.
FormGenie also offers a day pass for punters who want to try the service for a day, and determine it's a good fit for them. The Day Pass expires at midnight on the day of purchase. This means that you will receive ratings for only one day (the day of purchase). 
FormGenie are also currently offering a free live trial. This is a newer feature, and it allows you to access the day's selections, confirm the accuracy of the ratings, and get a feel for how the platform works. If you have already used your free live trial, you can access the historical demo for free. This is not live, but it is a great way to remind yourself how FormGenie works.
How Much Can You Make Using FormGenie?
The amount you are going to make off FormGenie will depend on the number of bets you place. Due to the nature of the tips that you receive from FormGenie, you will be dutching or placing each-way bets mostly. 
While these tips stand a greater chance of winning, the odds might be shorter, and you may win lower amounts. Placing several such bets will help build up your earnings.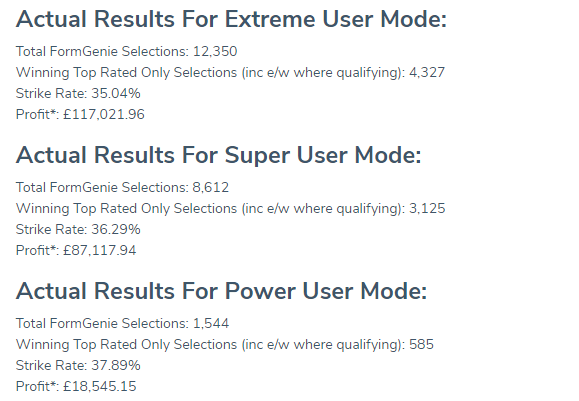 FormGenie review — Pros
This product has a lot of strong suits. These include;
FormGenie is very easy to use. The FormGenie app can be used across multiple devices. It also automatically downloads and displays the day's ratings with no need for manual input. A punter can, therefore, place bets with just a few clicks.
There are a lot of subscription options offered for its members. On this platform, the vast majority of punters are considered with the memberships available. Individuals who work during the week can opt for the Weekender subscription. With the Day Pass, punters who are looking to try out the service for a day can use the product and determine if it's right for them.
FormGenie also has bronze, silver, and Gold inc Bot memberships. Punters can therefore choose a subscription based on their budget.
FormGenie minimizes guesswork while trying to predict the outcome of a race. This software makes predictions purely on statistics, and it has shown impressive levels of accuracy. The strike rates are among the best in the industry.
The different user modes are a beneficial tool for FormGenie members. Selections on this platform are grouped into three categories depending on their strength. This makes it possible for a punter to filter out the weaker selections, and focus only on the strongest bets. You can filter the selections by simply choosing a different user mode.
FormGenie is very transparent. All their results have been externally proofed since 2015, and they are, therefore, credible. On their website, they also update results for past races daily, and you can easily see and analyse the performance.
With the Free Live Trial, you can access the day's selections and experience the service at no cost. This experience can be extremely useful when deciding on the suitability of FormGenie. You can also use the Free Demo, once you have exhausted the live trial, to further get a feel for the service without committing any money.
The Live Odds Comparison Utility saves punters a lot of valuable time. Finding the best prices being offered by bookies can be time-consuming. FormGenie helps you find the best prices easily.
FormGenie review — Cons.
In spite of the many benefits of FormGenie, there are some downsides to this platform.
FormGenie is a fairly expensive service. The day pass, which gives you access for only one day, costs £10. The bronze membership, which offers the cheapest monthly rates, costs £39/month. The silver membership costs £49 per month, while the Gold inc Bot costs £249 per month. These are all significant fees.
The odds tend to be short, and punters need to place a substantial number of bets. Owing to the high subscription fees, you will need to place a lot of bets to make a profit after paying the fees. If you only intend on placing a few bets, a £40 subscription may not be worthwhile.
What are Others Saying?
There is no shortage of FormGenie reviews online. This product has been reviewed extensively by both review websites and individual users of the product. 
FormGenie has been around since 2006. This fact is a testament to its legitimacy. For more than 14 years, the majority of punters have been able to make profits with FormGenie. 
The majority of reviewers seem to have had a positive experience with FormGenie. The platform is characterized by small consistent wins. Therefore, you will need to place a lot of bets to grow your earnings.
Some reviewers also note that the service is quite expensive. FormGenie is, therefore, best suited for individuals who plan on making a significant amount of bets.
Other Recommended Products and Services.
If you are in the market for a reliable horse racing tipster who is also affordable, we would suggest that you consider Master Racing who we have reviewed here. 
You can also find a variety of trustworthy tipsters on the Betting Gods platform. This site covers a wide range of sports including, horse racing, football, basketball, greyhound racing, golf, tennis, and many others.
If you prefer placing bets where the profits are guaranteed, arbitrage betting might be worth looking into. Read our honest Betslayer review, and find out how it offers arbitrage betting opportunities.
Conclusion.
FormGenie does provide value to its members, and a punter can definitely make a profit using this service. 
The FormGenie software is impressively accurate, and it can completely replace your techniques to analyse form and select potential winners.
If you are looking for a highly accurate tipping service, and you're capable of placing a significant amount of bets, FormGenie is a platform worth looking into.